About Wade's Interiors in Bradenton, FL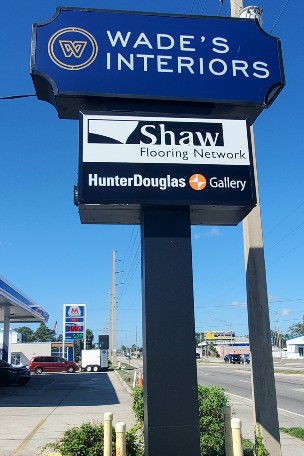 Larry Wade opened Wade's Interiors in October 1979. His journey began as an exclusive carpet store. His wife, Lynn eventually joined him bringing interiors to the business. Wade's Interiors now offers not only carpet, but hardwood, laminate, vinyl plank, tile, stone, blinds, shutters, window treatments, draperies, bedding, upholstery, and wallpaper. Whether you're building, renovating, or updating your home, our team will assist you in making your vision become a reality.
In March 2017, Derick Johnson purchased the business from Larry and Lynn. He had been the acting General Manager for over 5 years before purchasing their business. Derick has a tremendous desire to serve his customer's with excellence. He considers it a privilege to serve and it is very evident that his entire staff has the same desire. "There is not another company that cares about their clients as much as Wade's. Our desire is to earn your business for life".
Mission Statement:
Wade's Interiors seeks to honor God by positively impacting the lives of our employees, customers, vendors and our community through service.
Core Values:
Committed to Excellence:
"Whatever you do, do it enthusiastically, as something done for the Lord and not for men, 24 knowing that you will receive the reward of an inheritance from the Lord. You serve the Lord Christ".
Colossians 3:23-24
Honesty:
"Since you put away lying, Speak the truth, each one to his neighbor, because we are members of one another".
Ephesians 4:25
Integrity:
"The one who lives with integrity lives securely, but whoever perverts his ways will be found out".
Proverbs 10:9
Teamwork:
"Iron sharpens iron, and one man sharpens another".
Proverbs 27:17
Servanthood:
"It must not be like that among you. On the contrary, whoever wants to become great among you must be your servant, 27 and whoever wants to be first among you must be your slave; 28 just as the Son of Man did not come to be served, but to serve, and to give His life—a ransom for many."
Matthew 20:26-28